cityydrift/Detroit would like to acknowledge our sponsors and thank them for their support
Amy Anthony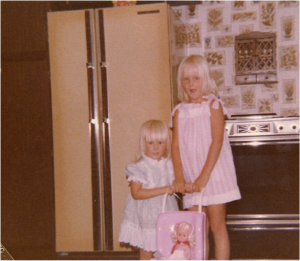 [Anthony, left, with her sister in their Detroit home, age 3]
Amy Anthony is pleased to be a sponsor of the citydrift/Detroit project. She continues to revel in the stories of her parents, grandparents and great-grandparents who were able to realize the "American Dream" because of Detroit's auto-industry.
 Although her immediate family moved away from the Detroit area when she was 3, the family kept close ties to relatives and yearly trips were made to Detroit. Through those trips she remembers a declining city and remains baffled by its moldering decay—the city that made and sustained her extended family.
She is proud to have been born in Detroit and would like to see it become, once again, a city of breakthrough relevance (e.g., music, technology, innovation). A place where people are no longer afraid to walk around and connect.
She feels that citydrift/Detroit gives people "permission" to connect: feel it is okay to walk, drift and engage. This engagement will awaken the city from its fearful stupor and begin to eradicate the aversion that keeps people inside or away.
Mark David
Mr. David is proud to help support the citydrift/Detroit project. As an entrepreneur and creator of numerous successful small businesses in the Northeast for over 30 years he believes in the idea that to "re-grow" a city one of the key ingredients will always be artists and other self-supporting creative individuals willing to challenge the doubts and overcome the fears that always accompany initiating a bold new vision. Mark believes that Detroit will someday soon be thought of as one of America's great "success" stories.
Since 2007, Brendan Carney and Liz Haberkorn at Supreme Digital have been dedicated to fine art printing and limited edition art prints for local, national, and international artists. Supreme Digital promotes the idea of local arts and business communities working in collaboration, and has generously contributed their printing services in support of citydrift/Detroit. Supreme Digital was an active participant in the first iteration of citydrift in Bushwick in 2012. 
For more information about Supreme Digital, please visit their website. Their limited edition archival inkjet print benefiting Bushwick Open Studios, featuring Loren Munk's playful interpretation of the Bushwick gallery scene, can be seen here. 
Winn Communities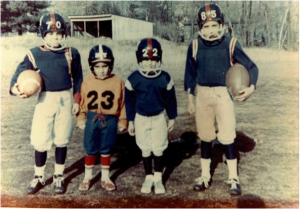 [Tom Winn, left, Founder and CEO of Winn Communities, in his backyard with brothers Peter, John, and Mike, Framingham, Massachusetts 1962]
For over 30 years Winn Communities has been a strong supporter of
the creation and building of diverse housing in Northern California.
Founded on the idea that "Community" is more than a house, it's a
belief that smart building allows for an idea of the way home
ownership build "connections" between neighbors. Based on his own childhood experience in an original post war "baby boomer" town of Framingham , Massachusetts.
Founder and CEO Tom Winn maintains the belief that there is a strong
connection between how we build our homes, and its relation to the
larger vision of community. He is a strong supporter of the goals of
citydrift/Detroit and the desire to see new ideas for the
rebuilding of our older urban centers through the practices of "play", and open dialogue between people.